For the last 4 years, we have made outdoors and indoors furnishing/furniture for bars, beaches and similar purposes, including in general the service industry. All of the furniture is assembled by ourselves.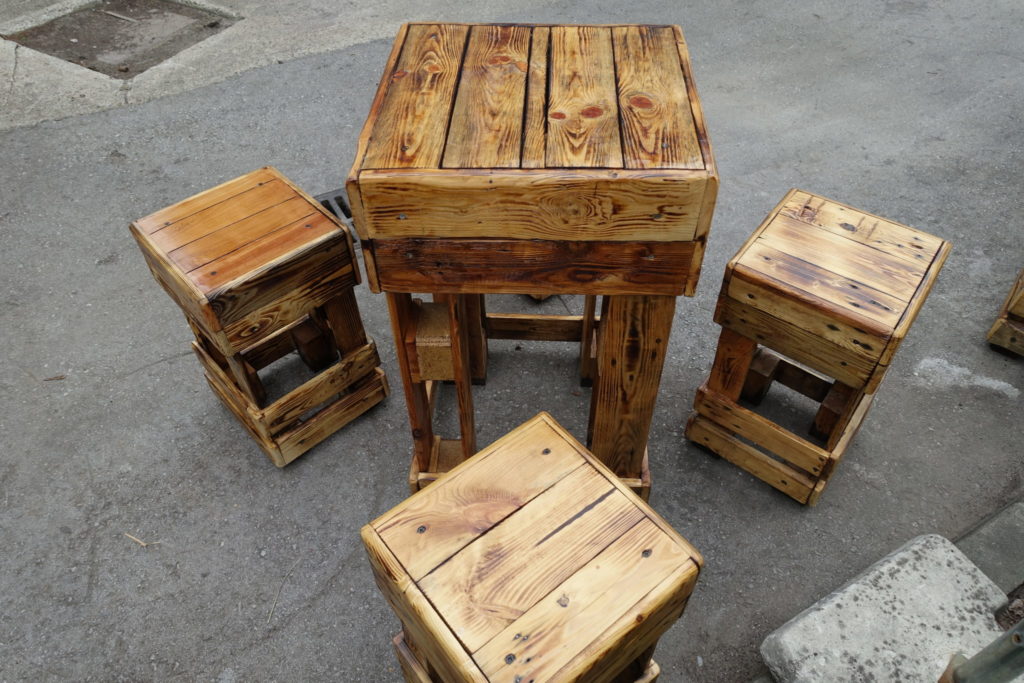 These pieces of furniture are made from European standard and dimension palettes. There is a constant need for fresh palettes and we keep looking for used or new ones if they're in solid condition. Sometimes we acquire palettes through ads, although the quality often varies. Four palettes are needed to make one palette table and two chairs, and a typical order consists of one table and four chairs, making us do two orders at once. Not counting palettes, we use other materials too, for example: planks of aged oak we build into "VIP" chairs and tables – different materials bring different experiences of the furniture, while different colors evoke a different sensation, attract attention and help preserve the items better.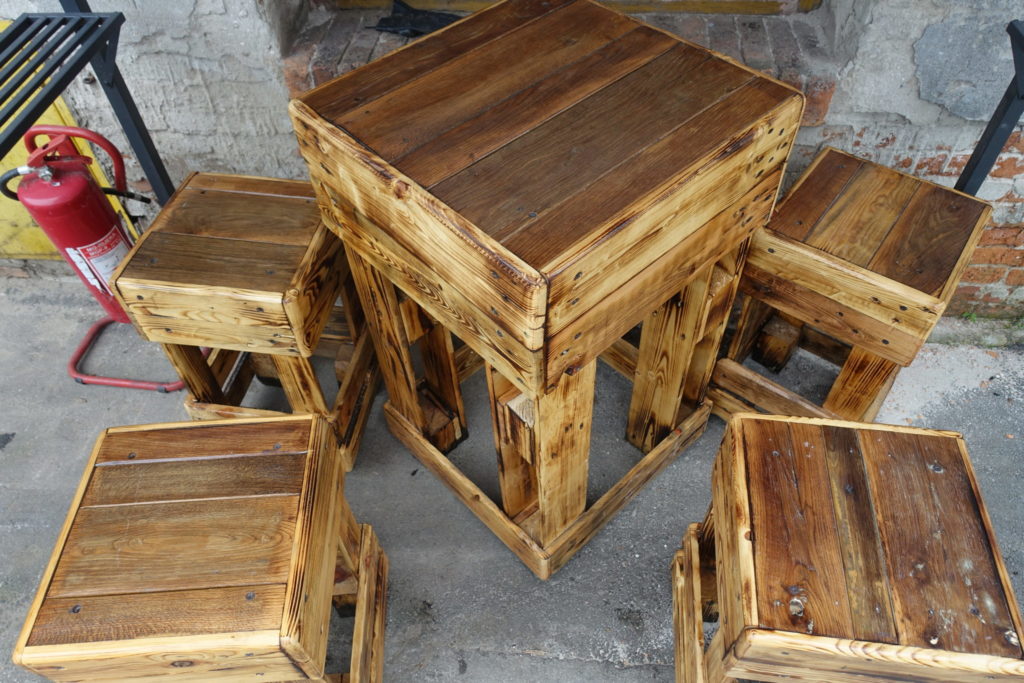 Palettes are disassembled almost fully, since we almost always need each plank and board in different ways and combinations other than those they are in, in the palette configuration. After everything, there remains the center bits with cubes, which make up the legs of the table. For one order of tables and chairs, simply dismantling the entire palettes take at least 2-3 days, due to the increased number of nails. It's quite a painstaking process, requiring skill and strength and meticulous precision.
From these pieces of board we assemble chairs and tables. As we aim for the most robust and strongest construction quality, we use a large number of nails in the wood. The construct itself is massive, depending on the type of wood the palette was or we used, one chair can wind up weighing over 10 to 15 KG at least. Tables are even stronger and more massive, weighing at least 40 KG.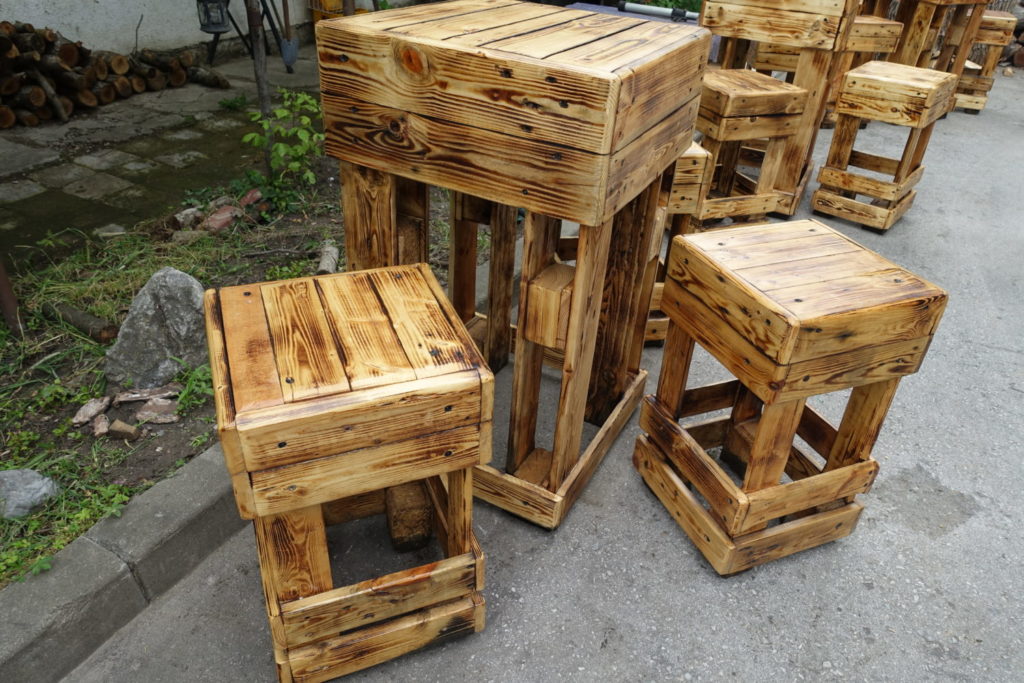 The next step is grinding down the surface of the furniture, the planks and palettes until it is near perfectly smooth and we are able to reach the healthier and stronger parts of the wood itself. Grinding down planks of wood for orders is the most time consuming aspect of production, taking up to 3-4 days to complete and spending a total of up to 10 grinding discs. The goal is to grind down the planks from every single side, making it smooth and slick to the touch where an individual may touch and use the item. Long before applying the final finish, we look to get the wood as smooth and comfortable by itself, to the touch as possible.
The planks of wood are then blowtorched lightly on the surface to add and emphasize the texture of the wood and its lines. Usually we torch it very intensely to get a higher contrast of wood texture, which always varies from furniture to furniture and the desired look and tone. This process goes relatively quickly, taking only up to 5 hours for each order torched this way.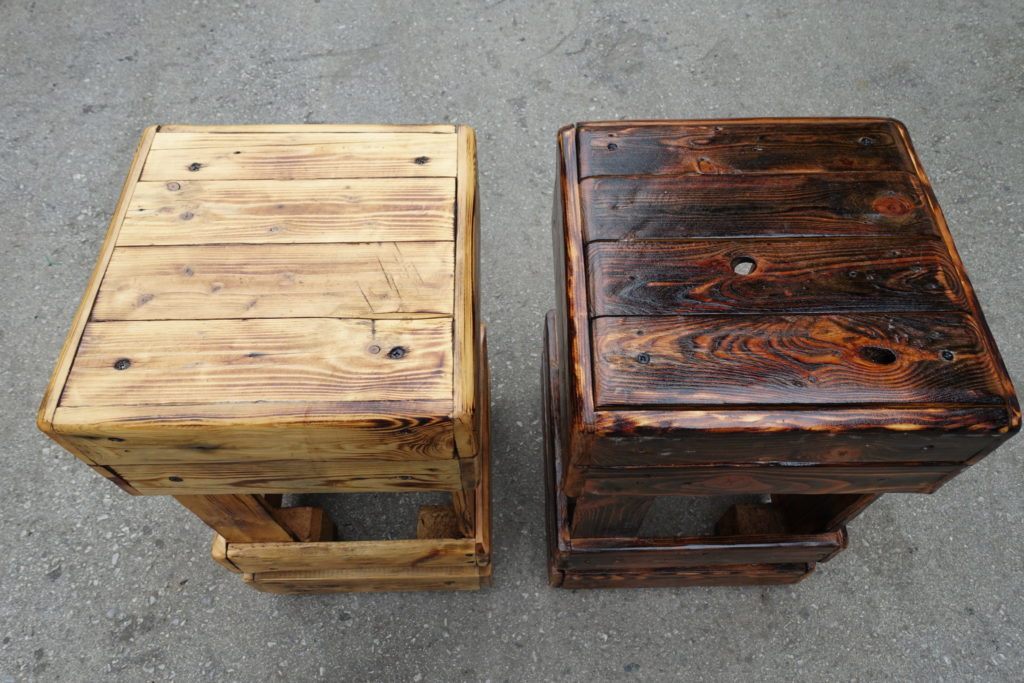 Polishing the furniture is demanding because of the shape of the furniture itself, and the numerous layers of finish needed to polish it, requiring the surfaces of the furniture to dry off every layer. We need at least 5 to 7 coatings of finish, given the robustness we emphasize in our furniture under any type of weather, humidity and outdoors factors, especially during the summer say on beaches. Not counting these layers, the legs of the furniture are polished the same way but with an aged oil applied beforehand to give extra moisture protection and resistance. For polishing one order of furniture, we use at least 5 liters of polish. We have tried many different brands types of polish and have found the best, most resistant-to-the-elements polish.
The process of applying polish can take from 2 to 3 days, depending on external factors.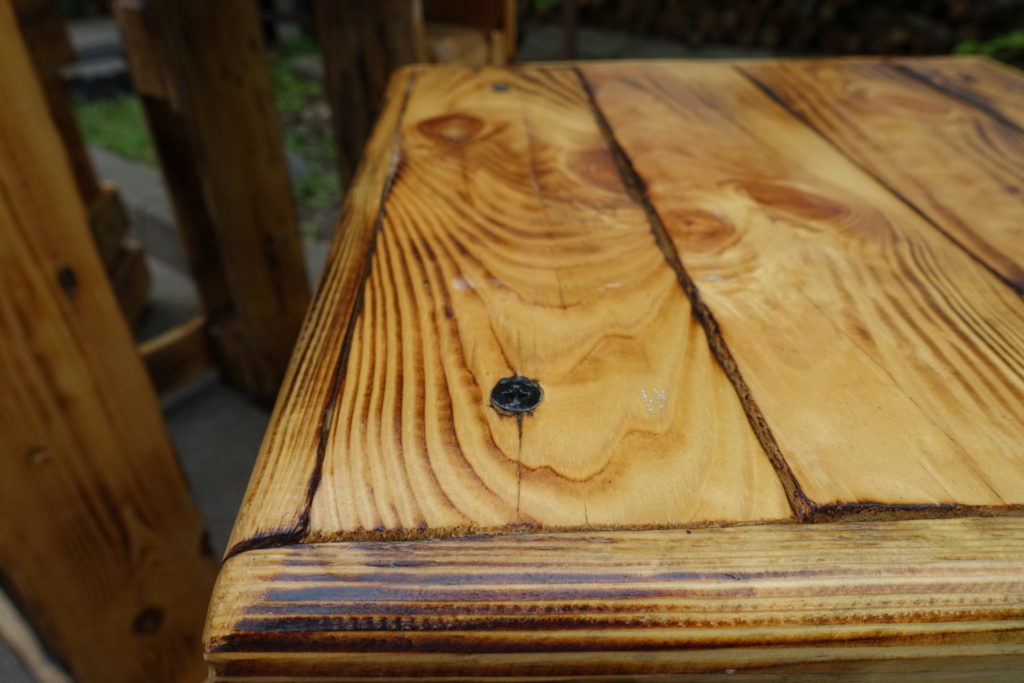 The manufacture of one order may take between 7 to 10 days, depending on the type of wood and exterior circumstances, however the furniture that we make itself can last up to 10 years. We have practical examples of furniture, that is at least 4 years old, appear as good as if not better than new when the finish is reapplied.
Besides chairs and tables, we make bars and arbors, in much the same way – they are great as part of an exterior furniture set or as small stands and houses, for use on beaches and urban environments.
For more information, feel free to contact us at: studiofba@usa.com, 00385 913773771 Aleksandra Matijević, Vice President of Perfect Circle NGO.